Internal parasites (such as roundworms, hookworms, whipworms, giardia, coccidia and heartworms) can silently rob your pet of good health which is why we recommend annual stool and blood testing for everyone, and monthly deworming for animals with 'high risk' lifestyles (for example, those who go to leash free parks or daycare).
External parasites (such as fleas, ticks, lice and mange) can be unsightly, uncomfortable and outright dangerous (think Lyme disease)! Luckily, we can help! Treatment options are becoming easier and more effective, especially where ticks are concerned. Please feel free to chat with us about the best option for your pet.
Just for Cats
Just for Dogs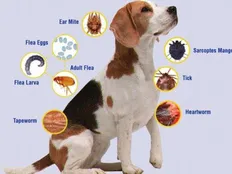 Worms and Germs blog

(Information sheet about dog parasites)

Pets & Parasites

(protecting pets and people from parasitic diseases)

FOX TAPEWORMS (Echinococcus multiocularis) are an emerging concern in our province. The first case detected here in a dog was in 2012. This does not affect cats. The source seems to be dogs imported from other countries therefore we are recommending that ALL dogs entering/re-entering Ontario be dewormed with praziquantel. The concern is the life-threatening damage it can do to people. Please contact us for more information and/or if you think your dog needs to be dewormed. See this

infographic

and this

infosheet

for more details. Here is a good website with current information:

emultiontario.com
Dog & Cat Parasites
Heartworms: American Heartworm Society
We recommend Interceptor Plus to prevent heartworms in dogs &

for cats.
Ticks: info can be found on THIS page; Tick Twisters are the easiest way to remove a tick and should be in everybody's emergency kit (available for sale in our hospital)
We recommend

to prevent tick and flea problems in dogs &

for cats.
Fleas: Here is a good overview of the flea cycle: