New dog? Have a read of the OVMA Dog Owner's Handbook

---
Nail trims at home
Need guidance on trimming your dog's nails at home? Click HERE to check out a video by the SPCA!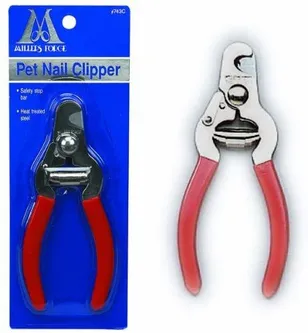 Using the right tools for the job is important. Familiarize yourself with the trimmers you are going to use.
Miller's Forge are the style we use in clinic for dog nail trimming. You can purchase these through us or on Amazon.
Kwik Stop (or styptic powder) is great to have on hand just in case you accidentally cut the quick.

The "Quick" is the blood supply found in the dog's nail. It is always best to trim small amounts at a time to avoid cutting the quick. If you frequently trim your dog's nails the quick will start to recede naturally, making nail trims easier (and less scary for you) each time. If your dog has white nails it is easier to visualize the quick (pink area in the nail). As you trim, the center of the nail will start to become pink, this is where you stop trimming. You can also see the quick from the side of the nail.
Black nails are more difficult to trim as you cannot visualize the quick as easily, this is when taking very small amounts at a time is important. As you are trimming, the center of the nail will look grey or white in color. Once you start to see the center look darker and then eventually pink you know you cannot take any more off.
---
Looking for fashion for your pooch?
Check out Canada Pooch for all your pet's fashion needs!