Park Animal Hospital is an AAHA accredited and AAFP Gold Level Cat Friendly certified practice with a strong focus on being kind to the environment while maintaining the highest level of medical care for our patients. We are honoured to be entrusted with helping your furry family members and will treat them with no less love than we treat our own.
Our vision is to provide exceptionally high quality, gentle, and compassionate veterinary care in an environment that is clean, safe, friendly, and efficient. To this end, our dedicated staff regularly attend hundreds of hours of lectures to stay abreast of the latest recommendations in veterinary care, and our hospital is designed for the comfort and safety of your pet as well as being equipped with modern veterinary technology.
We are proud to be pro-claw (this means we do not offer declawing or tendonectomy procedures); cosmetic ear surgery, tail docking, debarking and other convenience/cosmetic procedures are also not performed.
We want our team to stay true to their values, to know what it is to be kind to animals from the animal's perspective, and to speak up when something feels inherently wrong.
Our ultimate goal is to help your fur-babies live long, healthy, and happy lives with you.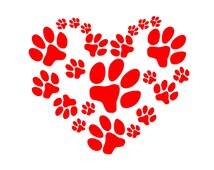 Park Animal Hospital belongs to a select group of practices committed to veterinary excellence: In addition to being approved by the College of Veterinarians of Ontario (CVO) (as all veterinary facilities in Ontario must be) and a member of the Ontario Veterinary Medical Association (OVMA), we work hard to voluntarily maintain our Cat Friendly certification with the American Association of Feline Practitioners (AAFP) and full accreditation with the American Animal Hospital Association (AAHA). Attaining these credentials is one more way we want to show our dedication to offering you the very best in veterinary care.


Of all of our accreditations and memberships, THIS is the most important one - without it, we would not be able to legally offer you veterinary services in this province - all veterinarians in Ontario must practice from an accredited veterinary facility.
Accreditation ensures all veterinary facilities in Ontario provide a professional environment and contain the essential equipment required for patient care. Veterinary facilities are inspected every 5 years for specific equipment requirements; proper patient records; safe drug storage; a medical reference library; and orderly and sanitary premises. There are currently around 4,500 veterinarians in over 2,100 facilities in Ontario. On September 29th 2020, we passed our most recent inspection with flying colours!
NOTE: Unlike the Ontario Veterinary College, which is a part of the University of Guelph and the only place in Ontario where one can get a degree in veterinary medicine, the CVO is the governing body for veterinarians and is there to protect the public by enforcing minimum standards of care and investigating complaints.


American Animal Hospital Association
NOTE: There is no Canadian equivalent of this accreditation, therefore we have chosen to be inspected by the American one.
Of all our accolades, this is the most challenging one to obtain and therefore we are probably most proud of it. To be an AAHA-accredited hospital, every 3 years we must pass a stringent evaluation of approximately 900 standards of veterinary care covering medical protocols and client service. These standards are above and beyond what the CVO requires and it is something we do voluntarily to show our clients our exceptional level of dedication to excellence. Only around 3,500 practice teams (12-15 % of ALL veterinary practices) have achieved such accreditation in North America.
We are proud to be one of the longest-accredited hospitals in Mississauga. Our last inspection was March 15, 2018. In March of 2015 six of us (Alicia [and daughter Erilyn], Tamara, Tori, Alex, Dr Gitte and Mark) flew to Tampa, Florida, to accept an award for having been accredited for 25 years!
We are grateful to Dr Hainish for having had the vision and determination to become accredited so soon after he started the hospital.

NOTE: There is no Canadian equivalent of this organization, therefore we have chosen to join the American one.
Not only are we members of the AAFP, we are very proud to have achieved GOLD LEVEL cat-friendly status with this organization since 2013!
This means that we pay special attention to the needs of cats, including how to handle, examine, and hospitalize them, as well as special considerations for pain management, surgery and dentistry. Click HERE to jump to our "We love cats" page for more info.
Dr Fenger is extremely proud to be the Ontario director for the Paw Project, a California-based movement to ban declawing in North America. Our entire team supports this cause whole-heartedly and hope you have watched The Paw Project movie (ask for your free copy!). Click HERE to jump to links for more information on declawing.

This is where we consult with experts and connect with peers from around the world to stay up-to-date on the latest recommendations and to get help for more complicated cases 24/7 year round.
Our local source for breaking veterinary news, world class continuing education, practice management resources and career advice.